Featured Vacation Rental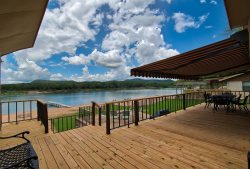 Butterfly Beach House - Boat Dock, WI-FI, Pool Table/Ping-Pong, 100` Private Waterfront!
Front Desk Vacation Rentals offers several Pet Friendly Lodging on Lake LBJ at these Texas Hill Country Vacation Rental Homes including Lookout Mountain, Sweet Mesquite, Christopher I and II, Breeze Terrace, Casa Verde, Cool Waters, Terrace View, Oak House, Paradise Landing, Azure Relaxin, and Elk Lodge. *Elk Lodge, Sweet Mesquite, Lookout Mountain and Christopher I and II only allow small dogs under 25 lbs. 2 dogs max allowed at all properties.
Breeze Terrace Lake House - Pool Table, Boat Lift, Jet-Ski Ramp

Breeze Terrace Lake House Vacation Rental is a scenic, revitalizing retreat from everyday life, located in the Highland Lakes area on the Colorado Arm......

Property Code: 001_Breeze_Terrace

Bedrooms: 4 | Bathrooms: 3 | Max Occupancy: 14

Location: Burnet - Lake LBJ - Colorado Arm

Pets Allowed: Yes
Casa Verde - Boat Lift, Dual Jet-SKi Ramp, Colorado Arm

Casa Verde Lake LBJ vacation rental has been a favorite for many families over the years. With 3,100 sq ft of family fun on 100 ft of waterfront......

Property Code: 002_Casa_Verde

Bedrooms: 4 | Bathrooms: 3.5 | Max Occupancy: 14

Location: Burnet - Lake LBJ - Colorado Arm

Pets Allowed: Yes
Elk Lodge on LBJ - Excellent Location on Upper Colorado Arm

The Elk Lodge Luxury Vacation Rental is a 5 bedroom, 4 bathroom two-story home located on the sought after "Colorado Arm" of LBJ, in th......

Property Code: 022_Elk_Lodge

Bedrooms: 5 | Bathrooms: 4 | Max Occupancy: 16

Location: Burnet - Lake LBJ - Colorado Arm

Pets Allowed: Yes
Paradise Landing - WIFI, Perfect For Small Families

Paradise Landing on Lake LBJ "open water" is the perfect family vacation rental home in The Highland Lakes. Enjoy the benefits of your own private boa......

Property Code: 012_Paradise_Landing

Bedrooms: 3 | Bathrooms: 2 | Max Occupancy: 10

Location: Kingsland - Lake LBJ - Open Water

Pets Allowed: Yes
August Special! The Oak House - Lake LBJ`S Best Kept Secret!

The Oak House Lake LBJ Vacation Rental Home, located on the upper Colorado Arm of Lake LBJ offers 125 feet of private waterfront on a 1.5 acre lot. Pi......

Property Code: 010_Oak_House

Bedrooms: 4 | Bathrooms: 3 | Max Occupancy: 14

Location: Burnet - Lake LBJ - Colorado Arm

Pets Allowed: Yes
Cool Waters Lake LBJ Cabin Rental

This Texas Hill Country vacation rental is nestled on 85' of Lake LBJ waterfront and situated under a canopy of 200 year-old Live Oak and Pecan ......

Property Code: 004_Cool_Waters

Bedrooms: 2 | Bathrooms: 2 | Max Occupancy: 10

Location: Burnet - Lake LBJ - Colorado Arm

Pets Allowed: Yes
Terrace View - Just Before the Rocks on the Upper Colorado Arm

The Terrace View Lake LBJ vacation rental home features excellent views of a peaceful segment of Lake LBJ from a terrace high above. Kids (and the kid......

Property Code: 009_Terrace_View

Bedrooms: 4 | Bathrooms: 2 | Max Occupancy: 12

Location: Burnet - Lake LBJ - Colorado Arm

Pets Allowed: Yes
Azure Relaxin` on LBJ 4 Bedroom with Swimming Pool, Jacuzzi, Water Trampoline

Are you looking to accommodate your 2014 family reunion or do you have a large mature group?....Look no further, Front Desk Vacation Rentals has you c......

Property Code: 019_Azure Relaxin` 4 Bedroom

Bedrooms: 4 | Bathrooms: 3 | Max Occupancy: 18

Location: Kingsland - Lake LBJ - Llano Arm

Pets Allowed: Yes